Pilgrimage with Saint Michael the Archangel
---
TO OUR VISITORS
This page has been divided into 6 parts because of the quantity of pictures included in the material. Since pictures occupy space and thus take time to open on internet, we invite our visitors to continue this "Pilgrimage" following the arrows that lead to the next parts of the "journey".
Part 1
Part 3

Start. The St. Michael images in Austria Schoenstatt | GermanyHohenzell | Loreto Italy

Castel Sant'Angelo, Rome

Part 2
Part 4

San Giovanni Rotondo ItalyMonte Sant'Angelo Italy,

Mont Saint Michel, FranceMount Saint Michael, Cornwall

Part 2b
Part 5

The grotto of the apparition of St. Michael

The angels according to the Catechism of the Catholic Church

Part 6

The apparition of St. Michael to S.t Paul of the Cross
Saint Michael's Parish

The window the Archangel Saint Michael in Vaxjo.
Our journey starts from the catholic church of Saint Michael in Vaxjo. During the spring of 1999 a new window with the archangel Michael was put up in the staircase that leads up to the new gallery in the church. The window was created by the glass-artist Winfried Baier in Tranas after the old original window from the church of Saint Anne; the Passionist fathers' first church in England.
St Paul of the Cross 1694-1775, who founded the Passions order, had during a critical moment in his life a revelation of the Archangel Saint Michael. Since then St. Michael is one of the Passions order's most important patron saints. That is why it is common to find images of the archangel Michael in the churches of the Passionist fathers. Because the Passionists have founded the catholic parish in Vaxjo, it has St Michael the Archangel as it's patron saint.
Hohenzell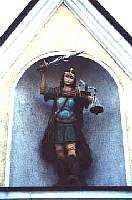 Saint Michael's parish church in Hohenzell in Austria
The first sanctuary consacrated to the Archangen Saint Michael we come to is situated in "Ober Österreich"; in the northern part of Austria. Saint Michael's Parish in Hohenzellis a sister-parish to us, which has contributed to the crucifix of our cemetery.
---
Schoenstatt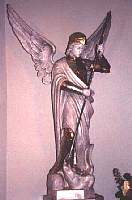 Saint Michael the Archangel in "the three times Wonderful Mother's" grace-chapel in Schoenstatt, Vallendar close to Koblenz in western Germany.
The Shoenstatt-movement has during many years contributed generously to our yearly parish basar.
---
Loreto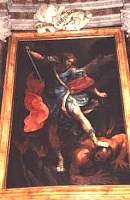 Saint Michael in "la basilica della Casa santa" in loreto, Italy. The artist'n name is Guido Reni 1575-1642.
The original is found in the Cappucchin Fathers church "Chiesa dell'Immacolata concezione" in Rome.